First, he picked up Best West Africa (musician) Channel O award for his song "Bounce". People started paying attention to this Nigerian rapper and then he came out with another single called "Beautiful" (featuring a Ghanaian artiste). He also Won african music awArds in 2009 troxy, london and Best new act AMA europe. Since then, M-Trill has dropped series of songs from "Microfone killer" to "Trilla" to "Langwa" to "Kolobi" to "Go harder" just to mention a few. And now M-Trill is back with a new one which he titled "Aboh". M-Trill is one Nigerian Rapper who definitely knows how to put words together.
This week on QueMeetsYou, Quebex meets this extra-ordinary rapper and they talk about his life in music.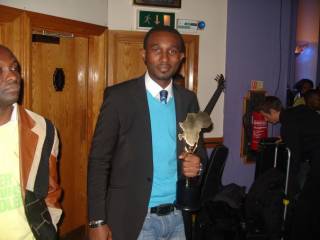 •• Can We Meet M-Trill?
M-Trill: M-trill is that rapper. Take all the best qualities from your favourite nigerian rappers…put them in 1 package…I'm the closest to that image. No joke (laughs hard) ..4 real oh!
•• Why M-Trill? How did the name come about?
M-Trill: M means major (spelt mayjah) and Trill,well u get what Trill means. Thrill is a feeling of ecstasy…so major trill is a lotta thrill (laughs) musically that is…
•• What are M-Trill's Full names? Background? Academics?
M-Trill: Government name is Yarhere Teria…from a family of professionals so I have a Diploma in business entrepreneurship (fate foundation),degree in Geology (uniport),went to FGC Warri and Odogbolu,airforce primary school Ikeja incidentally samclef n Dr sid did bout d same time I was der as well.lol
•• How did music start for you?
M-Trill: Professionally,my 1st single was 2005 but wasn't till 08′ that things really got into gear…I had a bit of issues in 09 and dat lasted till last year which I could now get back fully in the game.
•• Cool… Appears you have gained quite a bit of experience over the years. I listened to your song "Aboh" which is really a nice song with a catchy Nigerian traditional tune, What motivated you to do that? And please tell us what you mean by "Aboh".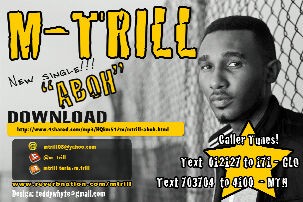 M-Trill: I believe in learning so its quite normal that one should grow but if I must say I've sumwat been ahead of my time musically…4 example "beautiful" @ d time I did it.I was termed wack bcos heads couldn't wrap dia minds around such a seemingly simple song but dat was jus poetry n it takes a mature mind to understand dat hip-hop is not just metaphors. Its poetry n can be expressed in several forms. So then, poetry can be adapted but sum day dey'll get d picture.
Aboh means clap and the idea came from the way niger delta ppl do praise in church. Its an idea I've had since 2009 but didn't get d chance 2 do it until recently wit my very able producer charlie x. Truth is I had done a diff beat for the song cos I didn't want it to sound like what m.i had done but he convinced me to go ahead and use his beat that my flow was different and ppl will appreciate it.I believe he was right
Aboh
[audio:http://tooxclusive.com/wp-content/uploads/2012/03/m.trill-aboh.mp3|titles=m.trill-aboh]
•• From Trilla to Aboh, what next?
M-Trill: Hmmn! the name of the forth coming album is "locally made" so bridging the gap between rap and local sounds and themes is the goal. I'm definitely working on that angle
•• Which record label are you signed to?
M-Trill: None for now but I'm in talks with several people and will be cutting several deals wit several businesses very very soon,we at the last stages of discussions. Growth is definite…
•• You have been regular in the music scene for a while now, how has it been?
M-Trill: Its been good. Seeing the growth has been wonderful.
•• Apart from music, which other thing do you do?
M-Trill: I'm an entrepreneur by heart. I had started a couple biz's in ph which I had 2 leave wen I moved to lag but since I'm on to the next…I'm seeing how I can balance the ph-lag life so as to maximise all opportunities. I also work with a solution strategy company in ph and our hands are full with projects. In time…things will be clear enuff.
•• What do you think about the current state of the Nigeria Music Industry?
M-Trill: I believe the growth is good but I wish we would also add some truth as well if not we'll soon reach d day wen lyrics (vocals) won't matter or be needed and nigerian music will be all about the beats…d role of the artiste may b dead then unless we celebrate great vocals and lyrics now as well as fame n etc…
•• What problem should be fixed in the Nigeria Music Industry? If any!
M-Trill: I would say gettin a workable structure,because all we have now are platforms. Platforms are talent shows etc, things that showcase but structures wuld be traditions that last,things that form a culture for music lovers and can generate revenue for the industry. We need more structures.
•• Who are your role models in the music world?
M-Trill: Sometimes I feel like my head will explode because I've not bin able to fully transport some of my thots to reality…but I believe anybody in the top 30 earners of the industry is inspiration to me. Locally and internationally. That's my drive…as per music proper. I'm a thorobred so all the greats I love, biggies,pacs,nas's,jay they showed us wat it meant to be individualistic and stand out not the generic trend we see this days.
Microphone Killa
[audio:http://tooxclusive.com/wp-content/uploads/2011/07/05-Microphone-Killa_Mtrill.mp3|titles=05 Microphone Killa_Mtrill]
•• Are we expecting your album drop from you soon?
M-Trill: Surely,I'm lookin third or last quarter this year
•• how important is music to you?
M-Trill: Its my life…I feel a certain joy as a musician. It can't be explained.
•• And how long do you plan to make music and what are your long term goals in the music industry?
M-Trill: I really can't say how long but as long as I'm able to n inspired to I will. Long term goals will all fall under this mission…which is I want to b able to give people choice in terms of music. As listeners we shuld hav a choice n not b stuck wit only one type. Also as youths as well,it'll b great to have a choice of music as a future professional career. We in the industry now owe it to the future. Those are my top most priorities.
•• Aside from talent, what qualities in an artist really stand out for you?
M-Trill: I have a perfectionist nature. I can record a song 100 times until I get what I really want but so far I can't afford that much time now and my producer friends are tired of me already. Its like I'm never satisfied…
•• What's your advice for the young, up and coming musical artistes?
M-Trill: Educate urself,don't do music jus bcos u tink u can sing…wat will distinguish u is all the knowledge u have about the industry. Trust God and remember prayer is an opportunity to be instructed. So when you pray,listen to what God is telling you.
Follow M-Trill on twitter : @m_trill
The post Que Meets The Extra-Ordinary Nigerian Rapper, M-Trill. appeared first on tooXclusive.